Student Recital Information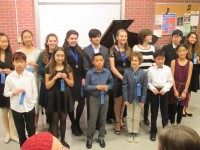 MTAC/CAPMT Recitals
Two recitals co-sponsored by MTAC and CAPMT will be presented online.  Dates are October 9, 2020 and January 15, 2021.  There is no registration fee, and memorization is not required.
For the October and January dates, Melinda Moreaux will be video editing the recorded submissions.  
Email a video to melindamoreaux@gmail.com with the subject line "Recital Video Submission" at least 10 days before the recital.  Please submit a separate video for each student.  If the file is too large to email, you can use Google Drive or Dropbox also.
Include in each email registration: 

Performer's name, age, and CM level (or equivalent)
Teacher's name
Full title and composer of the piece.  Include name of accompanist if applicable.
                                                                                                                       
Entry deadline is 10 days before each recital, September 30 for the October 9 recital.
Feel free to email any questions to mtacsoco@sonic.net 
TIPS for making the video~~unless you own extra mikes or other equipment, use the camera on your phone.  Don't place the phone directly on the piano.  Try to pick a time of day when the lighting is good, and try to include the torso, arms and hands, and keyboard in the frame.  Check that the background looks attractive and uncluttered.


Guidelines for student performers 
    1.  Memory is not required for solo or ensemble repertoire.

    2.  Repertoire should be standard classical literature and contemporary materials written for piano.  Use CM syllabus or CAPMT material as a guide.
    3.  Entry must be received on time.
    4.  Concert attire, please:  no shorts, jeans, athletic wear, mini-skirts, flip-flops!
    5.  Students, parents and teachers will be notified when the YouTube Watch Party will be online.  This will create the opportunity for friends and relatives all over the country (or the world?!) to be able to hear these great, hard-working performers.