Student Recital Information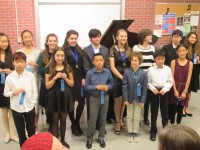 MTAC/CAPMT Recitals
Three recitals co-sponsored by MTAC and CAPMT will be presented at SRJC Forsyth Hall, room 105.  Dates are October 25, 2019, January 24, 2020, and April 3, 2020.  The Registration fee is $8 per student.
For the October and January dates, Carol Schindler will organize the programs.  Her email is caroljschindler@comcast.net.  Checks should be made out to CAPMT District 7 and mailed to her at 21 Benjamin Lane, Petaluma, 94952.
For the April recital, email entries to Debbie Bartle at dbnotes@sbcglobal.net.  Mail checks made out to CAPMT District 7 to her at 1512 Mary Place, Rohnert Park, 94828.
Include in each registration
Teacher's name and contact information;  
Name and age of student;  
Name of piece(s), composer, level, and length.                                                                                                                           
Entry deadline is 10 days before each recital.
Guidelines for student performers 
    1.  All solo music must be memorized.  Ensembles may use a score.

    2.  Repertoire should be standard classical literature and contemporary materials written for piano.  Use CM syllabus or CAPMT material as a guide.
    3.  Entry and registration fee must be received on time.
    4.  Concert attire, please:  no shorts, jeans, athletic wear, mini-skirts, flip-flops!
    5.  Students, parents and teachers should plan to stay for the whole recital, out of consideration for all the performers.