Student Recital Information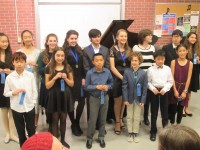 MARCH 28 RECITAL
MTAC will present an online student recital on March 28, 2021.  Carol Schindler carolschindler@comcast.net will receive the entries and create each program, and Patti Pacheco Gregg will turn those into a YouTube presentation.
Memorization is not required but it is encouraged.  Repertoire can be from any era of music.  The deadline for entry is March 14, 2021.  Please send entries in the .mov format via email with the subject line "March 28 recital" to her at caroljschindler@comcast.net.  Google Dropbox or Google Drive can be used as well.
Include in each email registration: 

Performer's name, age, and CM level (or equivalent)
Teacher's name
Full title and composer of the piece.  Include name of accompanist if applicable.
                                                                               
Feel free to email any questions to mtacsoco@sonic.net or to Carol.
TIPS for making the video~~unless you own extra mikes or other equipment, use the camera on your phone.  Don't place the phone directly on the piano.  Try to pick a time of day when the lighting is good, and try to include the torso, arms and hands, and keyboard in the frame.  Check that the background looks attractive and uncluttered.


Guidelines for student performers 
    1.  Memory is not required for solo or ensemble repertoire.

    2.  Repertoire should be standard classical literature and contemporary materials written for piano.  Use CM syllabus or CAPMT material as a guide.
    3.  Entry must be received on time.
    4.  Concert attire, please:  no shorts, jeans, athletic wear, mini-skirts, flip-flops!
    5.  Students, parents and teachers will be notified when the YouTube Watch Party will be online.  This will create the opportunity for friends and relatives all over the country (or the world?!) to be able to hear these great, hard-working performers.