Student Recital Information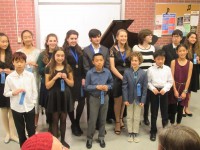 Please see the "festivals—how to register" page for recital procedures.
Recitals will be presented on October 13,  January 19, 2024, and April 19, 2024.  The first recital will begin at 6:30 PM at SRJC Forsyth Hall, room 119.
Carol Schindler carolschindler@comcast.net will compile the program.  Send all entries to Carol at 21 Benjamin Lane, Petaluma 94952, with $10 per entry made out in one check to "MTAC Sonoma County".  
Entry deadline is October 3.
Memorization is required .  There is no specific repertoire requirement—any period is OK.  Repertoire from method books is not allowed.
Include in each email registration: 

Performer's name, age, and CM level (or equivalent)
Full title and composer of the piece, plus length of piece.  Include name of accompanist if applicable.
Teacher's name
                                                                               
Feel free to email any questions to Carol. 
Guidelines for student performers 
    1.  Memory is required for solo repertoire.

    2.  Repertoire should be standard classical literature and contemporary materials written for piano.  Use CM syllabus or CAPMT material as a guide.
    3.  Entry must be received on time.
    4.  Concert attire, please:  no shorts, jeans, athletic wear, mini-skirts, flip-flops!